SWEARNET STORE
Trailer Park Boys Digital Store
For purchase:
The following shows are available for purchase. We accept PayPal, most Credit and Debit cards, as well as Bitcoin. For download assistance, consult our
Video Download FAQ
Trailer Park Boys Season 1
Purchase includes 6 streamed episodes
Trailer Park Boys is a series about love, friends, and family... or perhaps it's about everything that can go wrong with love, friends, and family. At the center of Trailer Park Boys are Ricky (Robb Wells) and Julian (Jean Paul Tremblay), two guys whose lives were shaped by their experiences growing up in the trailer park. Their childhood was typical of most trailer park kids: stealing, fighting, smoking, drinking, scamming, and listening to Van Halen. The boys have had their share of trouble with the law. Most of their adult lives have been spent behind bars of one kind or another. In fact, as this inaugural season begins, both Ricky and Julian are just getting out of jail. Ricky blames Julian for this most recent run-in with the law and now, as he prepares to start all over again, he refuses to talk to Julian. Ricky wants and tries throughout the series to go straight; but old habits die hard. And that's just fine with Julian.
Trailer Park Boys Season 2
Purchase includes 7 streamed episodes
Building on the success of last season, a season which earned Trailer Park Boys a Gemini nomination in the Best Ensemble Performance category, this year starts with Julian (John Paul Tremblay) and Ricky (Robb Wells) getting picked up outside of prison by Bubbles (Mike Smith). Things are going to be different this time, they vow. The days of nickel and dime scams are over. It's time to go big or go home. Time to get professional. Julian has a plan. It's called 'Freedom 35' and it calls for Ricky to grow as much of his awesome dope as he can, which Julian will then sell to prisons across the country through his prison guard contacts. In return, they'll make a trailer full of cash, enough to let them retire early and stay out of crime forever.
Trailer Park Boys Season 3
Purchase includes 8 streamed episodes
For the first time in their lives, Julian (John Paul Tremblay) and Ricky (Robb Wells) get out of jail as rich men. Ricky, however, has no intention of allowing Julian to invest his money in long-term investments such as GICs or RRSPs. Ricky's thinking is more short-term: get some dope, some rum, and a couple of pepperoni sticks to take back to the park. Never let it be said, however, that the Boys don't take care of their friends. Back home, Julian surprises Bubbles (Mike Smith) with new living arrangements, while Ricky buys Bubbles a set of wheels to get around the park. Mr. Lahey (John Dunsworth) and Randy (Pat Roach) keep a vigilant eye at all times on the three.
Trailer Park Boys Season 4
Purchase includes 8 streamed episodes
There's a new world order at Sunnyvale Trailer Park. When we left the park last year, Julian (John Paul Tremblay), Mr. Lahey (John Dunsworth), and Randy (Patrick Roach) had all gone to prison in a botched ATM heist. Notable in his absence at Con College was Ricky (Robb Wells), who despite his best efforts, was unable to get arrested and has now become Trailer Park Supervisor. Together with his trusty assistant Bubbles (Mike Smith), Ricky has walled off a portion of the park, where he carries out various illegal activities. Most significantly, Ricky has planted and is growing several HUGE fields of marijuana.
Trailer Park Boys Season 5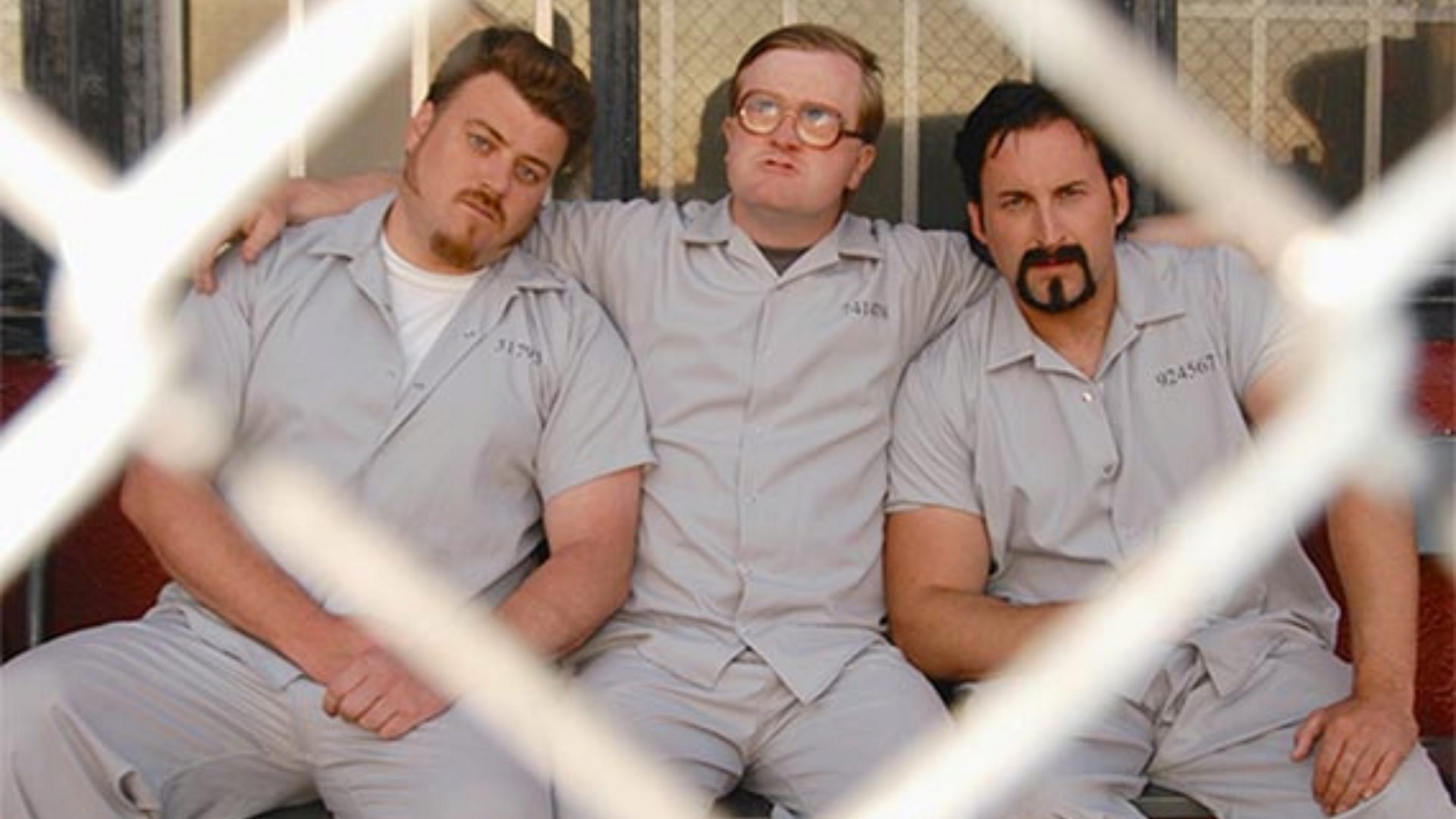 Purchase includes 10 streamed episodes
Like all good stories, Season 5 of Trailer Park Boys opens in a Nova Scotia jail. This time around, all three of the boys (Julian, Ricky, and Bubbles) went to prison. It wasn't as much fun this time, though. The boys are bored, and Ricky's pissed because the guards won't let him smoke in the slammer. It'll be worth it, though, because when they're released, they'll own Sunnyvale Trailer Park. Thanks to the proceeds from the big dope sale at the Snoop Dog concert in Moncton, the boys are rich.
Trailer Park Boys Season 6
Purchase
In season six, the Sunnyvale denizens are up to their usual hijinks. Bubbles decides to go legit and opens a feline dream vacation area and theme park called 'Kittyland'. Ricky becomes a garbage man and enlists Trevor to move people's lawn furniture to the curb to be collected and Julian attempts to get into the real estate business and starts buying trailers. Elsewhere, Randy is fed up that Lahey can't seem to stay sober and becomes the Associate Trailer Park Supervisor. Cory and Trevor become entrepreneurs, opening a 'Convenients Store', and Ray gets kicked out of the park for living in the cab of his old rig and throwing 'pissjugs' out the window. Things get unhinged when Mr. Lahey finds super 8 footage taken on Halloween 1977 proving Ricky, Bubbles and Julian caused him to be kicked off the police force and become an alcoholic.
Trailer Park Boys Season 7
Purchase
In Season 7, the Boys take their moneymaking schemes across the U.S. border in ten all-new episodes of The Trailer Park Boys. The new season revolves around the boy's cross-border shenanigans: the cheap price of dope in Canada means Julian and Rick must look for opportunities south of the border to make a profit. Bubbles decides he needs a hobby and starts collecting model trains. Julian has an idea: to smuggle the drugs into the United States, the boys and their new accomplices will build a model train track through the forest across the border and hide weed in the freight cars of the train. This seventh season includes guest appearances by Sebastian Bach (former lead singer of Skid Row), country music singer George Canyon, and the late Denny Doherty, founding member of The Mamas and the Papas.
Trailer Park Boys Season 8
Purchase
In Season 8, Ricky, Julian and Bubbles are back with greasy new schemes to strike it rich and get out of the trailer park, despite the interference of their vengeful park supervisor Jim Lahey and his shirtless toady Randy. Season 8 brings the boys more misguided adventures, including Julian opening a sports bar, and Bubbles launching a "Shed and Breakfast".
Trailer Park Boys Season 9
Purchase
In Season 9, Ricky and Julian are released from jail and return to Sunnyvale Park only to find that it's been turned into an alcohol and dope-free retirement camp by Lahey and Barb, with Bubbles running a seniors fast-food and games plaza. While Ricky struggles to get back together with Lucy, Julian schemes to gain control of the park.
Trailer Park Boys Season 10
Purchase
As Barb sets out to get revenge on Julian, the boys race to raise legal fees by turning the park into a casino, which attracts a surprising clientele.
SwearNet : The Movie
Purchase includes 3 streamed episodes
Trailer Park Boys: Live in Fuckin' Dublin
Purchase
The boys head to Ireland after winning a contest to see Rush but are arrested by immigration and must perform a community service puppet show.
Trailer Park Boys: Live at the North Pole
Purchase
Bubbles' plan to spread the true meaning of Christmas is dashed by Julian's wish to cash in on the holiday and Ricky's quest to meet the real Santa.
Trailer Park Boys: Swearnet Live
Purchase
Mike, John Paul and Robb take their new 'SwearNet' concept into a TV studio to record an Internet show in front of a live audience and with numerous friends and guests, including Pat Roach, Leigh MacInnis and their own alter egos, the Trailer Park Boys.
Trailer Park Boys Season 11
Purchase
When Bubbles and Ricky find Julian living in a shipping container, the boys get back together to grow some weed and try not to get killed.